Professional Teaching
Training Services
One of the truly unique aspects of Stone Falcon's business is that we are active as consultants within the areas that we also provide corporate training services. Stone Falcon delivers a variety of training programmes around the world to great success. Areas within which training programmes are offered:
Contract Programmes
International Petroleum Contracts
Commercial Contractual Negotiation and Drafting
Contract Management
Managing Contract Risk
Understanding contracts for non-legal personnel
Negotiation Skills Programmes
Handling Complexity in Negotiation
Handling Multi-lateral Negotiations
Negotiation Skills for the Oil and Gas Industry
Advanced negotiation
Supply Chain Management Programmes
Inventory Management
Logistics within E&P
Warehousing and Transportation Management
Procurement and tendering
Supply Chain Optimisation
Flagship Programme: International Purchasing and Supply – this course is delivered in a modular integrated fashion – 5 modules; 20 days overall. Clients may wish to choose specific modules, or may elect to undertake the entire programme.
Corporate Strategy Programmes
Understanding Corporate Strategy
Advanced Corporate Strategy
Strategic Planning and Change Management
Corporate Social Responsibility and Strategic Considerations
Business Development Strategies
M&A Programmes:
Understanding the M&A Process
Successful M&A deal making in practice
Post M&A – managing the cultural integration towards long term success
Project Management Programmes
The Core Skills of Project Management
Managing Project Costs and Budgets
Understanding Commercial and Contractual Issues in Projects
Project Risk Management
Leading Effective Project Teams
Infrastructure Project Management
Oil and Gas 'Mini – MBA' Programmes
Instrumentation
Flagship Training programme offered in Instrumentation: The A-Z of Instrumentation
This complete course will take anyone interested/working within the field of instrumentation (regardless of industry) from the basics at foundation level right up to advanced techniques; procedures and knowledge. The training package is outlined in the flow diagram below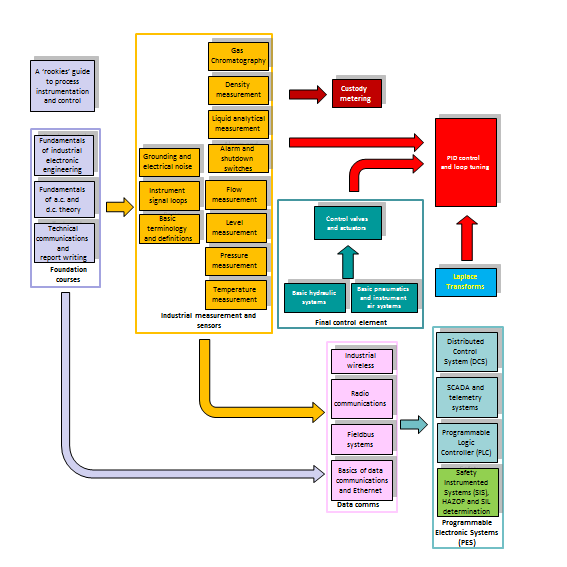 Train-the-trainer Programmes
Stone Falcon has two of the world's most experienced experts who conduct and deliver these programmes globally. We understand that there is often an internal requirement within organisations to ensure that individuals tasked with training personnel are at their best and that their skillsets are optimised to add the greatest possible value to their colleagues who undertake career development with them.
Auditing SME trainer performance within the classroom environment
Enhancement of existing trainers' performance
Delivery of coaching skills
Potential instructor screening workshop
E-Learning
Design and delivery of e-learning programmes and organisational strategy
Senior management e-learning/blended orientation programme
N.B. Stone Falcon offers training courses on every engineering/technical area of expertise listed on our website.